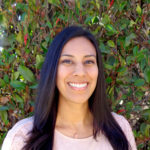 Dr. Natalie Rios is a licensed psychologist (PSY25690) and is the owner and founder of Spring Forth Counseling Services, based in Riverside, California. She earned a doctoral degree in Clinical Psychology from the California School of Professional Psychology (CSPP) at Alliant International University.
Whatever the reason that you brought you to our website, Dr. Rios is glad you're here! She cares about the work she does with her clients and wants to use her experiences and education to make a positive difference in people's lives–including yours! Why wait any longer when help is available today? Call now!
Approach
Dr. Rios' approach is collaborative, supportive, and intentional. She wants you to feel heard, understood, safe, and supported. Dr. Rios has an effective balance of providing empathy and compassion while also providing objective feedback and guidance to help you develop skills and overcome challenges. After all, you're likely here because you want something to change or you want to grow in some way! Whether serving as your therapist, supervisor, or consultant, Dr. Rios will honor your values, strengths, and needs while working with you to help you meet your goals.
Services
Dr. Rios offers to types of services: counseling and consultation. With counseling, Dr. Rios has over 10 years of experience as a psychologist helping people improve the quality of their lives. For some, this included overcoming anxiety, depression, grief and loss, and relationship concerns. For others, this was learning to navigate life changes and transitions, self-esteem and identity, and religion and spirituality. She uses many tools to help you meet your therapy goals and teaches you these tools so you can successfully practice them on your own. Additionally, she also offers counseling for specific concerns including how to navigate college or graduate school, perinatal mental health, and providing therapy to other therapists.
Consultation services are also available. These services can be helpful for those interested in becoming a supervisor or mentor, those who want to deepen their skills as a supervisor or mentor, or those seeking clinical consultation related to their own work with clients. Dr. Rios' experience as a supervisor and licensed psychologist allows her to see the "big picture" and to provide objective and relevant feedback to help you navigate your concerns. She can help you develop your own guiding principles, approach, and structure. She is also able to help you consider ethical and legal aspects that may influence your work and responsibilities.
Experience
Dr. Rios has worked with individuals, couples, and families in a variety of settings including university counseling centers, Department of Veteran Affairs, and private practice. She has specialized training in Cognitive Behavioral Therapy, perinatal mental health (mental health concerns during pregnancy and postpartum), and Gottman Method Couples Therapy (Level 1).
Dr. Rios is also a California Marriage and Family Therapists (CAMFT) Certified Supervisor and has experience supervising pre-doctoral psychology interns along with Marriage and Family Therapist trainees and associates. (For more information about the CAMFT Certified Supervisor program, clickhere.)

Nobody can go back and start a new beginning, but anyone can start today and make a new ending.
Maria Robinson
---